Editor's Note: Tom Gentile has a brand-new way to generate a massive, triple-digit profits on the world's most valuable company, without having to pay the high price for their $150+ shares. And… it could happen in nine days or less. Click here to learn the details, and get access to all of Tom's Power Profit Trades research free.
We've talked a lot lately about the emotional nature of investors and traders who make every move based on the fear and/or greed they're feeling at that moment.
And we've seen how you can force that emotion out of your trading, so you're free to leverage the fear and greed of others for big money.
Yep – short of leaving it all in a paper bag on the bus, emotional trading is the fastest way to lose your money.
But at the end of the day, we're not robots; we do feel fear sometimes – and greed, too. I sure do, and I'm willing to bet you do, too. Who doesn't?
Well, today, I'm going to show you another tool I use myself to put my mind at ease when I'm about to commit some hard-earned capital to a trade.
It's not quite a crystal ball, but it's close.
Believe me – it's reassuring when you know you've got the bases covered and you're highly likely to be making a smart, profitable money move…
Another Effective Tool for Pushing Costly Emotions Out
Emotions are great at weddings, birthdays, Christmas morning, and what have you, but they're the last thing you want creeping in when there's money at risk in the markets.
So I do whatever I can to minimize it. I try and give myself every edge in the markets.
Unprecedented "Effect": Regularly harnessing the V3 effect can turn a small stake into $2.2 million in a year's time. As you'll see, you can make these "money grabs" yourself – again and again – in about five minutes a day. Take a look at how it works.
I use the Money Calendar to isolate the 250 best stocks on the market – along with 10 whole years' worth of their price action data – to predict, as much as possible, what those stocks will do this year. It takes the guesswork and doubt out of picking stocks to trade.
I'm a rules-based trader, which means just what it says: Set strict rules for your trading. For instance, I never pay more than $500 for a trade. I know exactly what's at risk and when it's time to exit (most often with a nice profit).
And I look for a very specific, unmistakable sign that a stock is about to move in my direction. More than that, I often use weekly options, where the stock I pick only has to move around 2% to hand me a 100% gain.
The thing to watch is volume. It spikes on options every time a stock moves. No guessing, no worries about whether it's the right play or not.
You might see options volume on XYZ calls spiking 300% to, say, 25,000. That means a lot of money is pouring into XYZ calls – a volume spike.
The idea is that when the big money knows or believes that a stock is about to make a move, they will bring big dollars to an option trade for a profit. If they believe that the stock is poised for a move up, they will buy call options in large quantities. If they believe it's moving down, they will buy – that's right – put options.
Of course, people are only going to spend big money on options if they think the stock is about to move in a particular direction.
So, this simple system breaks down like this:
Volume spike in calls, go bullish.
Volume spike in puts, go bearish.
Use weekly options (one to two weeks).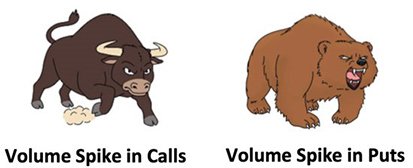 In order for this system to work, you must be able to find option volume spikes…
And there's a way you can do exactly that.
Here's a Volume Spike in Action, Paying Huge Profits
On Jan. 2, 2019, these were the stocks with the highest call option volume spike: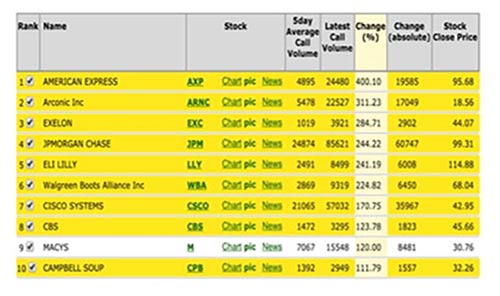 Each of these 10 stocks had call option volume spikes of at least 111%, as shown under the "Change (%)" column. But the stock with the biggest volume spike was at the top of the list: American Express Co. (NYSE: AXP).
Over the previous five days, AXP's average volume of calls was 4,895. But on the day of the scan, its volume was 24,480. That's a 400% spike over the average!
A Market Mega-Trend Has Been 20 Years in the Making: It's set to make history. And it begins now, right here, where you have a chance to become one of the first people in the world to experience the massive profit potential delivered by a V3 effect. Click here to see it in action.
Obviously, bullish sentiment overflowed on AXP during the first trading day of 2019.
The following graph shows call and put volume. Give it a look – it's easy to see the bullish sentiment on AXP: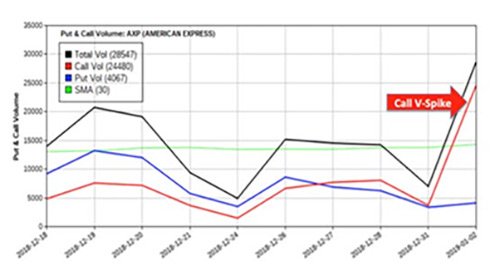 It's clear that the bias here is bullish. Call volume is at 24,480 – completely eclipsing put volume of 4,067.
Now, if you had just looked at the AXP chart, the upcoming bullish run would be a lot less obvious…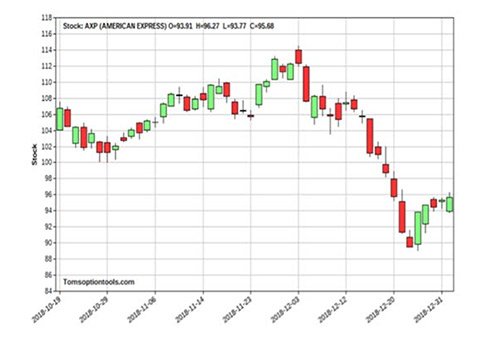 But the fact that volume on call options was a whopping 20,000 contracts higher than put option volume means that a bullish run may be imminent. And the best way to play this upcoming bullish rally?
Buy a weekly option that expires in one to two weeks.
Do This Before Monday: Immediately after opening bell Monday morning, we're releasing a brand-new recommendation from this top-100 list. Learn how to get access here.
On Jan. 2, 2019, the AXP Jan 11, 2019 $97 calls (nine-day options) could have been purchased for $1. For control over 100 shares, that's $100 per contract.
Six days later, on Jan. 8, AXP was trading 3% higher…
And our call options more than doubled.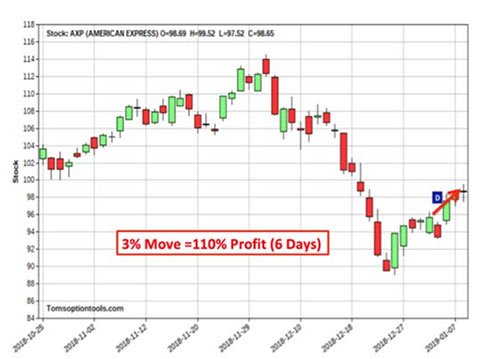 But while volume is easy to profit off – finding the surge in volume is a different story.
Unless you have a scanner that's built to pinpoint incoming volume spikes, allowing you to bear the herd.
I've recruited a team of data scientists, and together we've spent many months testing and perfecting what could be the only formula in the world that has the power to hand you a 94% success rate… a 15-to-1 reward-to-risk ratio… and as much as $30k a month in enormous gains… using volatility spikes. (You can learn how to use this formula for yourself right here.)
I mean, of the 10 stocks that my system gave me on Jan. 2, nine of them (highlighted in yellow) turned into winners. Here's the list again: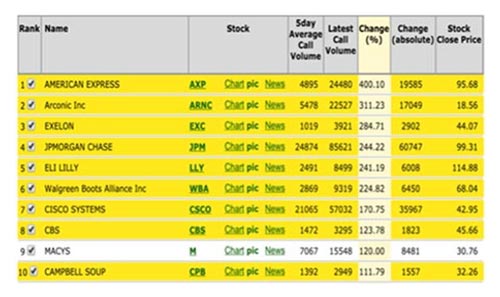 See what I mean? With option volume spikes, it's simple to double your money – worry free – in just a few days.
The "V3 Effect" Could Turn a Small Stake into $2.2 Million…
… and it could happen remarkably fast, in a year's time. What's more, tapping into this effect is easy to do. As you'll see in a second, you can make these "money grabs" yourself – again and again – in about five minutes a day! Take a look at how it works.