Editor's Note: Tom Gentile has a brand-new way to generate massive, triple-digit profits on the world's most valuable company, without having to pay the high price for their $150+ shares. And… it could happen in nine days or less. Click here to learn the details, and get access to all of Tom's Power Profit Trades research free.
In the past six months, we've already seen at least 10 cannabis IPOs, with as many as 42 private cannabis companies slated to go public by the end of the year.
All in all, you're looking at an industry that could easily reach a $50 billion milestone by Jan. 1, 2020 – and limitless opportunities to take your piece of the pie.
Of course, if you use the simple trading techniques we talk about all the time, your profits should easily top anything seen by the buy-and-hold crowd.
So today, I'm going to show you the best five high-flying cannabis plays I'm eyeing right now…
How I Identify My "Watchlist" Candidates
In my free newsletter, Power Profit Trades, I've talked about using moving average crossovers as a way of following trends. Moving averages are one of the most commonly used and commonly understood indicators. A crossover occurs when two moving averages of different lengths cross over each other.
I'll show you what I mean in a moment.
THREE STOCKS: Any one of these cannabis companies could potentially deliver a 1,000% windfall. Click here to learn more…
Now, as a trader, you don't want to use something the entire herd uses simply because they're using it – you juice it to expand your cash-churning opportunities and fatten your profits.
And here's what my proprietary tool has identified as the "ultimate pot watchlist" right now:
Compass Diversified Holdings (NYSE: CODI)


CODI shares have been profitable on the last three crossovers that occurred, with the most recent happening on April 10, 2019. The stock is up over 5% since then.

New Age Beverages Corp. (NASDAQ: NBEV)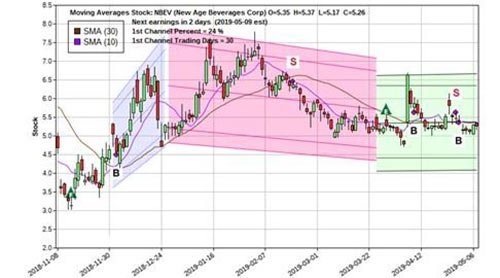 New Age Beverages has also had a few bullish crossover opportunities on the chart. But what really stands out is the profit the stock made early in its life cycle – over a 150% return on a recent cross – just from buying the stock!
THREE STATES just legalized marijuana, and these three stocks could potentially see a 1,000% boost. Click here to learn more…
Cara Therapeutics Inc. (NASDAQ: CARA)
After bottoming in December, CARA shares have been trading higher – sparking a nice run from a crossover. The latest crossover came just a few days ago and is poised to break to new yearly highs.
Abbott Laboraties (NYSE: ABT)
If slow and steady wins the race, then award the medal to Abbott. This stock has advanced 2.5% since it started crossing up, with another "buy" signal forming recently. It seems to be hugging the long-term trend as well – which is a great sign for future profit opportunities.
Anheuser-Busch Inbev NV (NYSE: BUD)
You might only think of beer when you see this name, but Anheuser-Busch is moving into the cannabis sector, too. The stock's been trending higher since Dec. 1. And although the most recent bullish signal came back in January, it continues to trend higher as its portfolio diversifies into the cannabis world.
Now that you've got the cannabis stocks to trade, click here to sign up FREE to my Power Profit Trades service and get started learning the trading techniques we use to make triple- and quadruple-digit rainmakers out of ordinary stocks.
Join Me for My Next Million-Dollar Masterclass
Every month, I put together a class that teaches folks how they can earn consistent income every 30 days using the strategies I've used to amass my own multimillion-dollar fortune. These classes are reserved for folks ready to move beyond living paycheck to paycheck, who want the opportunity to make big, positive changes in their lives and control their own financial futures. You're invited to this upcoming session – learn how to RSVP right here!